Most Reliable Residential Upholstery in Sydney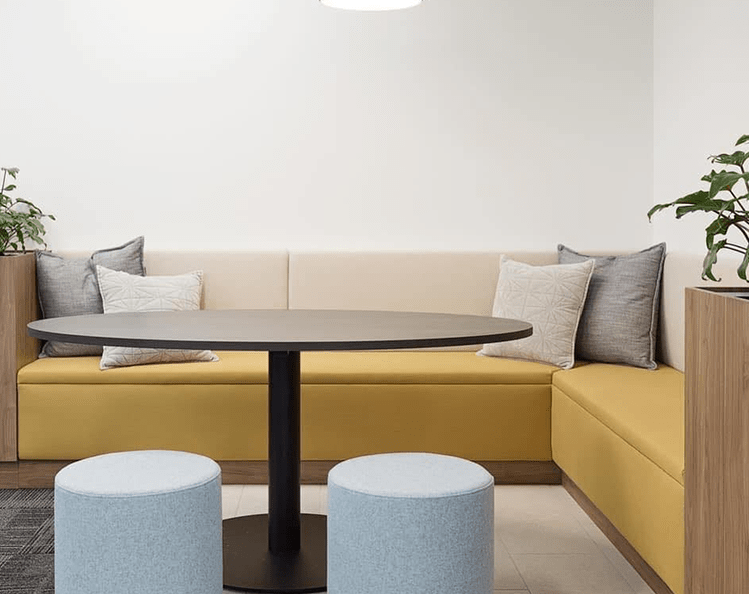 Banquette seating upholstery has always been popular with big restaurant chains, pubs, and clubs since it maximizes the number of seats available while also offering a variety of design finishing choices. It is referred to as fixed seating, and it has recently gained popularity among residential customers who want to make the most of their available domestic sitting area to the maximum extent possible. Art Trim Australia has a lot of knowledge and expertise in the corporate seating industry, and we are pleased to continue to serve major restaurant chains and groups in Sydney. Booth seating upholstery is best utilised in a business environment, it is ideal for clubs since it is often used in Premium sections, but it is also ideal for clubs and restaurants because it allows your clients to enjoy a private meal or drink.
We have completed hundreds of customer projects with our banquette and booth upholstery in and around the Sydney region. Considering that Art Trim Australia manufactures its banquette and booth upholstery to order, whatever your needs, we can collaborate with you to provide the most appropriate solution. With our extensive selection of fabrics, leathers, and stitching finishes, we can design a one-of-a-kind appearance to complement your surroundings. We plan to take your ideas and turn them into reality, from concept to implementation.
Upholstery and Motor Trimming Specialist in Sydney
Most Reliable Residential Upholstery in Sydney
Maintaining an up-to-date appearance and feel for your place may seem to be an expensive, time-consuming, and frustrating endeavor. Poorly constructed materials may wear out much more quickly than you anticipated, and the process of changing furniture can create significant interruptions to your daily operations. We at Art Trim Australia take the worry out of booth repairs and furniture reupholstery by using the latest technology. Because of our extensive business knowledge and expertise, we have refined the process of replacing hospitality furniture to ensure that our clients get the highest-quality repairs and upholsteries at the most competitive prices.
Booths and banquette upholstery seats usually begin to show signs of wear after about five years. Reupholstering existing hospitality furniture rather than replacing it may be a cost-effective way to enhance the overall experience of your customers and increase your revenue. Furniture in a restaurant, hotel, or hospitality setting that is old and out of date may be updated and transformed by Art Trim Australia. Through reupholstering and restoration, we can help you prolong the life of your booths and banquettes by bringing our high-quality manufacturing processes to your current items. While we have the capacity to restore your hospitality furniture, we also have the ability to change the design to modernise the appearance and enhance the functioning of your furniture.
The following are the reasons why you should select Art Trim Australia for your custom booths and banquettes:
To bring your updated vision to reality, we'll alter, reupholster, and refinish your current seating choices.
We can assist you with anything from producing a single new seat that complements the rest of the seating to doing a full seating makeover.
We can provide same-day upholstery services for maintenance tasks, as well as in-house upholstery services.
From vinyl or weather-resistant booths to hardwood or leather banquettes and everything in between, you can get all you need for your interior and outdoor seating requirements in one location.
LWith the assistance of Art Trim Australia, you can create long-lasting furniture solutions that will help you accommodate your visitors for many years to come.
Custom booth and banquette seating, upholstery and repair services are done at competitive and affordable rates with the best quality in all our Upholstery, Re-Upholstery, and Custom Furniture Services. To get a free estimate or to learn more about our services, please contact us at 0421-929-235.
Damo Bell
10/10 for customer service and the end result!
Highly recommended
Damo Bell
Lindsay Patterson
Shane at Art Trim did a terrific job of re-upholstering my Land Cruiser front seats and at a great price, certainly beats replacing the seats.
Lindsay Patterson
Art Trim Upholstery Sydney
If your in need of motor trimming or upholstery visit Art Trim, we take on all jobs big and small. Feel free to contact us for a free quote
Art Trim Upholstery Sydney
Anneke Kelly
Fabulous finish on goods and fast turn around time – thanks Art.
Anneke Kelly
Hayden Kendrick
The team at art trim went above and beyond to supply and install me a tonneau cover for my truck after a close call from being fined for no cover
The team there were so professional and accommodating to fit me in to save me getting a fine for a uncovered load again
Thanks again
Hayden Kendrick
Scott Hansen
Refurbished door cards and trimmed my Kombi's doors & wall panels. Awesome job.
Thanks Shane, Dualcab next.
Scott Hansen
Leon Patterson
Re trimmed my steering wheel and fixed my roof lining. very impressed with how it turned out, looks good as new.
Leon Patterson
Ian Mathison
Have used art trim twice and his work is second to none. A pleasure to do business with. Ian M.
Ian Mathison
robert sutinen
Ford xc coupe seats new foam shaped heated seat pads fitted upholstered in leather awesome job thanks Shane
robert sutinen
Yogi Bee
Shane from art trim has done all the work on my boat including Bimini covers,clears and re upholstering the leather lounges, all of the work was outstanding and very reasonably priced.. I highly recommend art trim Australia for all upholstery and trimming needs..
Yogi Bee
Damian Rynett
Good locally run business specialising in all type of upholstery. Friendly staff. Fast service.
Damian Rynett
Brian Coleman
Recently visited for a quote on a job, result was at a good price. Finished product came out better than expected, now a regular client. Would recommend to anyone A+++
Brian Coleman