Commercial Upholstery in Sydney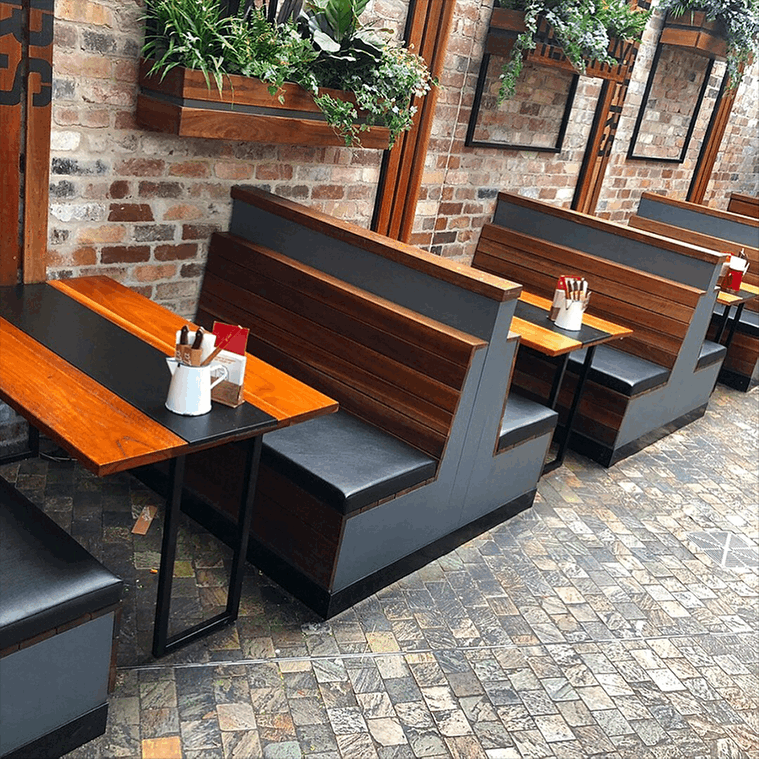 Art Trim Australia specialises in all aspects of Commercial Upholstery in and around Sydney, be it Sutherland Shire, Taren Point, Menai, or Padstow. We will reupholster your existing commercial seating or build completely new seating. We replace damaged foams, springs, webbing, damaged frames, as well as build new ottomans, Booth Seats and Banquette Seats.
Businesses in Sydney that need commercial upholstery services need to work with a company that can bring their visions to reality. Art Trim Australia can produce anything you need, whether it's custom branded upholstery that promotes your company with elegance and accuracy or beautiful customised commercial upholstery that creates the ideal appearance for your business.
When you choose a commercial upholstery business with more than a decade of expertise, such as ours, you eliminate the restrictions that newer upholstery companies must confront. We deliver commercial upholstery to companies that can be counted on. And this has provided us with the required hands-on expertise to manage any job. Our upholstery professionals can design and complete any job you may have. Items like furnishings and automobile interiors are not the only things that we may customise. We can create whatever you can imagine if you have an idea.
Upholstery and Motor Trimming Specialist in Sydney
Commercial Upholstery in Sydney
We can provide you with recommendations on the most appropriate materials for your project. Our upholsterers always work with the finest quality materials, and depending on the project's requirements, various materials are appropriate for different applications. Vinyl, leather, and linen are just a few of the materials that we use on a regular basis.
With years of experience in the industry, we have built our reputation for seating upholstery by using only the best foams, fabrics, and upholstering materials. Our tight affiliation with Australia's leading fabric and leather brands gives our customers a wide range of quality materials to suit every budget. Our highly skilled team has all the knowledge in transforming your commercial space in Sydney. We ensure to provide you with the best solution for your seating upholstery project and service in all of Sydney.
"Delivering high-quality work on time" is what we pride ourselves on.
From high-end office fitouts to automotive seat repairs, we design, transform and repair upholstery. We do it all. We produce unique designs as per customer requirements to match their expectations, budget, and preferences.
OUR SERVICES INCLUDE
Reupholstery of existing or brand-new Booth and Banquette seating
Upholstered wall panelling, bedheads, padded wall coverings
Snaptex acoustical wall coverings for improving the aesthetics and acoustics in a room
Ottomans, built from scratch and/or reupholstered existing ottomans
Lounge upholstery, foam replacements, foam repairs or webbing/spring repairs
Reupholster Dining Chairs in cloth, leather, or vinyl.
Outdoor Furniture reupholstery or completely new pads made to size, from the best UV-stabilised materials on the market
Reupholstery of Bar Stools
Reupholstery and repairs to Chesterfield lounges and commercial chesterfield seat.
and much more...
COMMON FABRICS FOR UPHOLSTERY THAT ARE STYLISH YET COMFORTABLE
Leather
Fabric/Cloth
Vinyl/leather look vinyl
We have a broad range of high-quality suppliers' swatches for seating, wall paneling and much more available for viewing in our showroom located in Kirrawee Sydney.
When you want to elevate your company beyond the ordinary, contact 0421-929-235 or send an email at Iconinfo@arttrim.com.au to Contact Us for commercial upholstery in Sydney now.
Damo Bell
10/10 for customer service and the end result!
Highly recommended
Damo Bell
Lindsay Patterson
Shane at Art Trim did a terrific job of re-upholstering my Land Cruiser front seats and at a great price, certainly beats replacing the seats.
Lindsay Patterson
Art Trim Upholstery Sydney
If your in need of motor trimming or upholstery visit Art Trim, we take on all jobs big and small. Feel free to contact us for a free quote
Art Trim Upholstery Sydney
Anneke Kelly
Fabulous finish on goods and fast turn around time – thanks Art.
Anneke Kelly
Hayden Kendrick
The team at art trim went above and beyond to supply and install me a tonneau cover for my truck after a close call from being fined for no cover
The team there were so professional and accommodating to fit me in to save me getting a fine for a uncovered load again
Thanks again
Hayden Kendrick
Scott Hansen
Refurbished door cards and trimmed my Kombi's doors & wall panels. Awesome job.
Thanks Shane, Dualcab next.
Scott Hansen
Leon Patterson
Re trimmed my steering wheel and fixed my roof lining. very impressed with how it turned out, looks good as new.
Leon Patterson
Ian Mathison
Have used art trim twice and his work is second to none. A pleasure to do business with. Ian M.
Ian Mathison
robert sutinen
Ford xc coupe seats new foam shaped heated seat pads fitted upholstered in leather awesome job thanks Shane
robert sutinen
Yogi Bee
Shane from art trim has done all the work on my boat including Bimini covers,clears and re upholstering the leather lounges, all of the work was outstanding and very reasonably priced.. I highly recommend art trim Australia for all upholstery and trimming needs..
Yogi Bee
Damian Rynett
Good locally run business specialising in all type of upholstery. Friendly staff. Fast service.
Damian Rynett
Brian Coleman
Recently visited for a quote on a job, result was at a good price. Finished product came out better than expected, now a regular client. Would recommend to anyone A+++
Brian Coleman